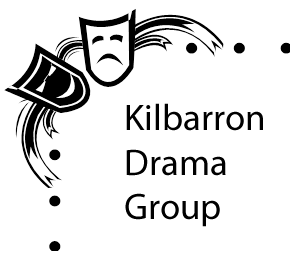 In 2001 the Drama Group in Kilbarron was revived after nearly 40 years, with a mix of new actors, plus Henry Donoghue from the original Kilbarron Players.  With the invaluable help of director Michael O'Meara, from Rathcabbin, the group performed J.B. Keane's 'The Field'. Michael Hoctor, from Rathcabbin joined the group as 'The Bull McCabe'. The production was a huge success, and this led the way for another Keane play 'Big Maggie' in 2003. Such was the success of this production, that the cast and crew took Maggie on Tour to Nenagh, Toomevara and even to the bright lights of London. That October weekend, and the memories of Willesden Junction and The Chippenham will not be easy to forget!!!
Over the following number of years, the Drama Group chose a wide variety of plays, from the classic 'Playboy of the Western World' to the mad-cap farce 'Perfect Wedding', all of which offered many challenging roles and showed the diversity of talent within the group. In February 2005, the Drama Group were delighted to receive a Tipp FM Arts Award, which was presented by Tipp FM's Denis O'Sullivan. The group credits our success to the fantastic direction and patience of our directors over the years – Michael O'Meara (2002 – 2009) and more recently Marian Frawley (2010 and 2011).
Thanks to the continued support of our audiences, the Drama Group has been able to make significant contributions towards the up-keep of Kilbarron Hall, along with investing in a set of stage lighting for the Hall. The funds have allowed us to host a Theatre Make-up workshop, along with sending cast and crew members on acting and stage management workshops.
While the audience only get to see the cast, the back stage crew deserve an equal amount of credit – the many hours that go into constructing and furnishing the set often go unseen.
New members are always welcome in the group, so if you fancy the bright lights, or would be happier to help out with make-up, or getting the set together, why not join us?  If you have a talent for anything, we will make use if it!!!
Contact Details
Drama Group Chairperson:  Avril Tierney
Secretary :  Margaret O'Brien 087 2772545.
Treasurer :  Sharon Dunne 087 9410177.
Past Productions
2002   –   The Field by  J.B. Keane
2003   –   Big Maggie by J.B. Keane
2004   –   Winds of Change by Gerry Slevin
2005   –   Dancing at Lughnasa by Brian Friel
2006   –   Playboy of The Western World by J.M. Synge
2007   –   The Chastitute by J.B. Keane
2008   –   A Crucial Week in the Life of a Grocer's Assistant by  Tom Murphy
2009   –   Kevin's Bed by  Bernard Farrell
2010   –   Fortunes & Misfortunes by  Jimmy Keary
2011   –   Perfect Wedding by  Robin Hawdon